we speak for the trees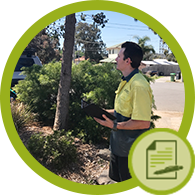 consultancy
We provide consultancy services offering aboricultural advice, tree hazard and risk assessments, reports and tree audits. We work with both residential, commercial clients and educational departments providing small to large reports to council. Our consultants work within the guidelines of Australian Standards 4970-2009 'Protection of trees on development sites'.
reports
Reports are required for a number of different circumstances relating to the trees on your property. They may be required for a simple pruning job or a large removal, but more so when you are building and developing a site. Many councils have Planning overlays that relate to the trees on the property and each council has different specifications and guidelines.
Our Consulting Arborists can meet with you on your property to discuss and inspect the trees. They will then collect data and assemble a detailed report looking at parameters like the age, health and structure of the tree as well as providing recommendations for an achievable outcome. These reports can then be submitted to council.
audits
Assured Tree Care is building a strong reputation in the education sector as we provide tree audits and professional tree care for a number of pre- schools, schools and universities each year. This ensures the trees on the grounds are maintained in a safe and healthy condition. We assess and undertake regular maintenance to manage the risks associated with trees in the urban environment. Costings for recommended works is then estimated to assist in budget forecasting. By undertaking remedial maintenance work we help to reduce potential hazards ensuring your kids are safe.
Some of the schools we work with are listed below:
Download our guidelines and procedures for school tree audits or to read more about this head over to our blog post on the importance of school tree audits.