March, 2019
Barking up the wrong tree? – Tips to avoid door-to-door scams
Have you ever had a knock on your door from a big burly bloke asking you if you want some tree work done?
Have you ever seen a neighbour having trees removed or pruned during early evening when the work day is well and truly over?
Do you know any elderly people who have been preyed upon for their vulnerability to have work undertaken?
If you have had this happen or know of someone who has, then this is the result of unprofessional tree companies trying to make a quick buck and manipulating a sale on unsuspecting customers. In other words a scam!
Here's how it works
These fraudulent companies go door to door, or they may even approach you while you are out in the garden. They will give you some spiel about working at your neighbours and are just finishing up. But whats this? They have noticed that your trees around the property are actually unsafe and in need of work. They may suggest they are too close to electrical wires, which can be dangerous and that is how houses burn down. Or they may speculate that the tree is hazardous and needs pruning to prevent limbs falling and damaging your house in the event of strong winds or storms.
This plays on your mind and they offer you a 'good deal' its only available today and the price seems very cheap. Crisis avoided.
However this is not the case at all. They ask or 'bully' for the money up front and suddenly there are other issues that need to be fixed and before you know it they have hacked away at half your garden and left it in a bigger mess than when they started. In some insistence they may not even finish the job promising to come back tomorrow and then after multiple contact attempts you realise they aren't coming back at all. Homeowners are then left with a mess they are not equipped to clean up and then have to source a more reliable service to do it for them.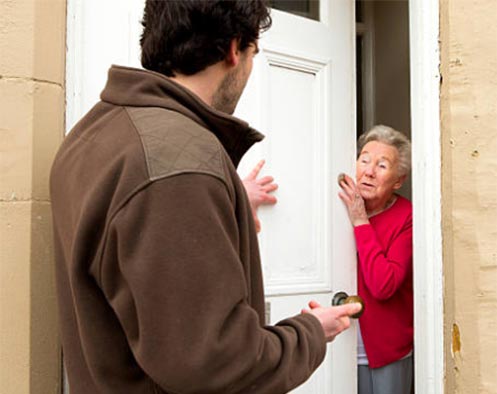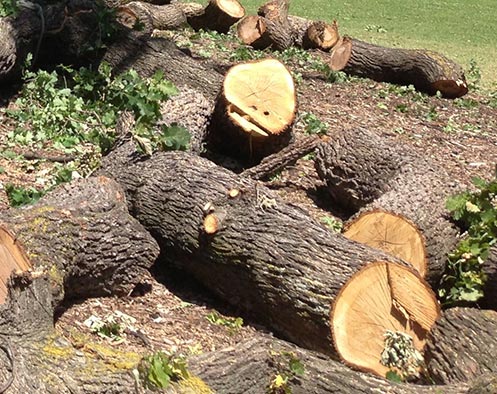 How to be cautious and avoid being the next victim
As with most trade services, the tree industry works on clients contacting us not the other way around. Sure we do marketing and advertising runs as a way try to drum up work, contact existing clients if its time for their yearly tree maintenance, but we would never go door to door inventing work on properties.
Reputable tree companies should be recognised for the following:
Qualifications in certificate 3, 4 or Diploma in Arboriculture
Insurance cover for Public Liability, Workcover and Professional Indemnity
They should have a level of knowledge and experience that comes with a trusted professional
Provide written quotes
Have been recommend by friends, family or word of mouth
Have great online reviews and presence or
Run a successful advertising campaign to gain interest.
Things to remember if you are approached via door knock or in person:
Ask for their license or identification, stating the name and physical address of their business if they are knocking on your door.
Never trust people who will just recommend themselves to you, legitimate tradespeople rarely door knock for business.
Where possible hire somebody whose previous work you have seen or comes recommended
Be cautious after wild weather as this is the perfect time for them to be opportunistic in their scam for easy money
Don't be tempted by unsolicited offers of tree removal
Never pay an upfront deposit or full amount to workers, they will take your money and run!
Be wary if they suggest they have been sent by Council or have Council permits to remove trees on your property
Check permit requirements with your local council before you agree to any work
Don't accept their 'Just for today offers' and 'Working in the area' scenarios
Avoid if the price seems to low or high and too good to be true. Not only does this mean they may have no experience or insurance, if there is an accident it will fall on you financially.
Its OK to say no and get a second opinion
Research the company with online reviews, website and socials media such as Facebook and Instagram etc
How to report and stay one step ahead
You can officially report the scammers and suspicious activity to the following sites:
– Scam Watch https://www.scamwatch.gov.au/report-a-scam
– Consumer Affairs Victoria on 1300 55 81 81 or email consumer@justice.vic.gov.au
Call the national travelling con men hotline (1300 133 408) between 8:30am and 5:00pm Monday to Friday (except public holidays)
Check the national map or Facebook page to see if con men have been reported in your area – https://www.facebook.com/StopTravellingConMen/
Report suspected travelling con men to local police
Record as much information as you can, such as names and vehicle registrations
Make your family and friends aware of this scam by sharing it on social media
Visit this site to read more https://www.consumer.vic.gov.au/resources-and-tools/scams/travelling-con-men
Another one to check your rights as a consumer and unsolicited sales can be found at the Australian Consumer Law site http://consumerlaw.gov.au
You can also check noise restrictions on the EPA website https://www.epa.vic.gov.au/your-environment/noise/residential-noise
The tree industry has grown rapidly in the last decade. It feels like every where you look a new truck and chipper is popping up on the roads or in your neighborhood. Unfortunately though, as we've seen not all companies are created equal, so please be cautious, or next time you are after some tree work done just call us! Having the knowledge and upper hand in this situation we can 'weed' out the hackers and keep out industry free from unnecessary tree damage. Just remember to ask for an up front quote in writing, insurance cover, ethic advice and a trusted professional.
Because we all know trees matter!
Until next time
The Assured Tree Care Team
---